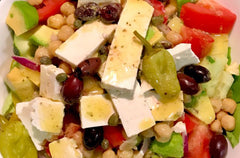 Serves 2 entrée portions or 4 starter portions
The secret is in the dressing! For this salad we wanted to use our new Greek Athinolia Extra Virgin Olive Oil because of its mild fruity flavor, creamy and buttery mouthfeel, and light bitterness and balanced pungency.  We're always changing up our version of a "Greek Salad". Sometimes we keep it a simple "Horiatiki" or Village Salad with the basics: ripe tomatoes, red onion, cucumber, kalamata olives, feta cheese, caper berries and bell pepper (no lettuce!) Other times, I add chicken sautéed in our Harissa olive oil, and use a crunchy Romain as a base. This is a vegetarian version, but we wanted to make it a little heartier as a main course, so we added lettuce, avocado, and garbanzo beans...But the real magic is in the salad dressing so here's how we make it:
For the Salad:
1 head Romain Lettuce or Butter Lettuce, cut or torn into bite sized pieces
1 Cucumber, halved and sliced
2 Roma tomatoes, quartered and sliced
¼ small Red onion, thinly sliced
½ can garbanzo beans, drained and rinsed
½ avocado, cubed
4-6 oz. chunk feta cheese, sliced in 1/4-inch slices
4-6 pepperoncini
¼ c. Kalamata olives
1 ½ tsp caperberries
Arrange salad on a large platter to share, or individual plates starting with the lettuce and layer on the other vegetables, garnishing with the feta, pepperoncini, olives, and capers.  Finish with a nice drizzle of the dressing and fresh cracked pepper to taste.
For the Dressing:
2 Tbsp red wine vinegar
2 Tbsp fresh lemon juice
1/2 cup extra virgin olive oil
1 tsp Dijon mustard
fresh cracked pepper and garlic salt (to taste)
A "dash" of onion powder
A good pinch of really good dried oregano...
Now, whisk until it's the right balance tartness for your palate...If it's too tangy add more Extra Virgin Olive Oil, If it's not tart enough-add a little more vinegar. Et Voila! Drizzle this over your salad and enjoy! Bon Appetite!