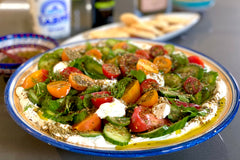 This is one of our favorite simple salads; fresh and full of flavor enhanced with a hint of exotic spice. A simple yet impressive crowd pleaser.  Juicy tomatoes, refreshing cucumbers, tart and creamy Greek yogurt, brought together by a fresh and luxurious extra virgin olive oil and the perfect savory spice mixture.  We love the way the flavors meld on your plate to create the perfect fresh dressing.  The juices from the cucumbers and tomatoes mix with the creamy and tangy yogurt seasoned by the fresh olive oil and za'atar! In this refreshing dish, we chose to highlight the flavor of each ingredient, so each one shines on its own, only to be complimented by the next.  This recipe is more an assembly of high-quality ingredients as opposed to a recipe, so it is a wonderful dish to start a family style meal with or bring to your next potluck.
About Za'atar
We fell in love with Za'atar when traveling through the Middle East, where it is used as an all-purpose seasoning on just about everything. Za'atar is a spice blend made up of variations of this combination of spices: sumac, thyme, oregano, toasted sesame seeds, and salt and is commonly used to flavor baked goods, as a seasoning rub for chicken, beef, or lamb, sprinkled over hummus, or just mixed with olive oil as a dip for bread.
Olive Oil
For this dish we recommend something creamy and delicate like a Mission, Ogliorola, Hojiblanca, or even slightly more punchy Arbequina but your favorite fresh pure EVOO will do just fine.
Ingredients:
1 English Cucumber or 3or 4 mini Persian cucumbers, sliced in ¼" slices (about 2 Cups)
4-5 medium tomatoes, (heirloom, vine ripened, Roma, or whatever looks good) slice into bite sized wedges
1 Cup of plain Greek yogurt (2% or 4% depending on your personal preference)
Fresh Extra Virgin Olive Oil for drizzling
1-2 Tablespoons Za'atar seasoning
*Lightly salt cucumber slices with a sprinkle of Kosher salt to help them soften just barely.  This helps create a more luxurious texture to match the tomatoes in the salad. Set aside for 10-20 minutes, then check the texture of the cucumber, you want them to still be nice and firm.  You may rinse to remove excess salt, or you may choose to leave a little on to enhance flavoring. Next, slice tomatoes and set aside.  To assemble get a large platter and spread the Greek yogurt over the bottom to create a creamy base layer for the salad.  It's ok to keep a little texture in this layer so the additional layers have something to set on.  Next layer on your tomatoes and cucumbers. Drizzle generously with fresh extra virgin olive oil and then sprinkle with za'atar mixture. Voila!
*This step is suggested but certainly not necessary (especially if you are watching your salt intake.)