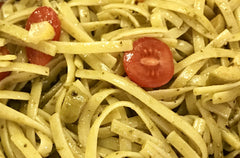 Recipe ("formula") courtesy of Rebecca Woodland.
A formula rather than a recipe, this has endless variations and can be served hot or at room temperature. Feel free to experiment with your favorite herbs, vegetables, tapenades, pesto, olive oils, or even add chunks of cooked chicken, fish, or meat ~ as well as various types of pastas.
FORMULA:
Dry pasta (250 grams, or a little more than 8 ounces)
Pesto or tapenade (start with 4-5 ounces, about half a jar)
Artichoke hearts, olives, sun-dried tomatoes, fresh grape tomatoes (halved) and/or other flavorful bites
Herb seasoning
Extra virgin olive oil
METHOD:
Bring water to a rolling boil. Add pasta. Stir. Add 1-2 teaspoons Hawaiian salt. Place wooden spoon or wooden chopstick across the diameter of the pot to prevent boil-over. Cook al dente, according to package directions.
When done, remove pasta from water using tongs (for noodles) or a "spider web" utensil (for short pasta). Place pasta in a large bowl. (Do not rinse pasta!) Reserve cooking water.
Scoop pesto or tapenade onto warm pasta. Use only one kind. Toss well until all pasta is coated. Add more tapenade or pesto if you wish. Toss again. If pesto/tapenade seems too thick, add a spoonful of the cooking water and toss again.
Add artichokes and/or olives. If using other vegetables or meats, add them now. Toss again.
Drizzle lightly with your favorite olive oil.
Sprinkle with your favorite herb seasoning.
Serve warm or room temperature.
Here are some suggestions: (Bolded items are available at Island Olive Oil Company)        
Pesto di Cavolo Nero OR Pesto al Pomodoro
Finish with coarsely ground black pepper
PORCINI LINGUINE
Mushrooms, any kind (sautéed)