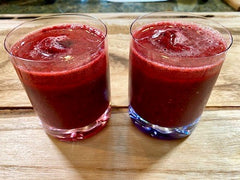 Use this tasty refresher drink recipe as a formula to mix up cooling summer drink. Add fruit, seltzer, or alcohol to your preferred taste! 
Berry Refresher (Makes 2 servings)
Ingredients
2 cups mixed berries
1 Tbsp Raspberry Dark Balsamic
1 Tbsp Blueberry Dark Balsamic
2 Tbsp Honey
1 cup ice
2 cups seltzer water
Directions
Puree berries, balsamic, honey, and ice divide between 2 glasses and top each glass with seltzer water. Garnish with mint or fresh raspberries.