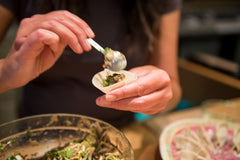 Traditional Cantonese dumplings are made with a combination of pork, green cabbage, and green onions.  This recipe uses a combination of pork or chicken and prawns with lots of creative opportunities to make your own ingredient combinations.  Judy Lam Maxwell shares insights from one of her own Dumpling Master Class recipes here!
Yield 30-40 dumplings
Prep Time 50 minutes
Cook Time 10 minutes
Dumpling Filling Ingredients:
1/2 lb. ground meat (chicken thigh or pork)
6-8 Argentinian prawns (finely chopped
1 can sliced water chestnuts
1/2 c. purple cabbage, diced
1/2 c. mushrooms, diced 
4 green onions, diced 
1/2 c. cilantro, minced
3 T. soy sauce
INSTRUCTIONS:
Dice the water chestnuts, green onions, mushrooms, and cilantro. Mix in meat, then add soy sauce, toasted sesame oil, and 1 whole egg. Mix everything together.

Start making the dumplings by pleating each dumpling wrapper 3x and filling each one with 1⁄2-3⁄4 tsp of filling. Seal the dumplings with egg wash or water, pinch together both sides using both hands, and press down on them to make the bottoms flat. Put completed dumplings on a plate. After making a plate of completed dumplings, put them in the fridge while you continue making more. (If you're going to freeze the dumplings, put wax paper or parchment paper on the plate first. These would be cooked for a few mins. longer.)

To cook, I add a bit of Macadamia Nut Oil to my non-stick frying pan (Swiss Diamond brand), then I put the dumplings in the unheated pan. Next, I put the frying pan on the element and turn it to media-high heat. As soon as you hear the dumplings crackling, add 3⁄4 c. water to the frying pan, put a lid on, and turn the heat down to minimum. Let the dumplings steam for 5 mins. (I put on a timer.) Take the lid off the frying pan and turn the heat back to high (the wrappers should be translucent at this stage). Let any remaining water evaporate. Allow the bottoms of the dumplings to brown and crisp, about 3 to 5 more mins. (I suggest using a silicon spatula to check doneness of the bottoms of the dumplings.) When done, place a round plate on top of the cooked dumplings [still in the frying pan], flip the pan over, and voilà!

For dipping sauce, I like to use lemon ponzu with some chopped Thai chili. You could also use Chinese vinegar, Thai peanut sauce, plain soy, etc.
INGREDIENT NOTES:
You can either buy pre-made wrappers or make your own.
Healthy neutral cooking oils also include avocado, sunflower, safflower, grapeseed, etc.
I like to use ground chicken thigh or regular ground pork because it has more fat/flavour and won't be dry.
Argentinian prawns are very big, so if you want to use smaller prawns or shrimp just add however much you want.
Most of the time, I use baby shiitake mushrooms or truffles. If they aren't available, then use brown or white mushrooms.
You don't have to use green onions. You could use leeks, garlic chives, regular chives, spicy arugula sprouts, a combination, or none.
I use organic, unpasteurized soy sauce, but you could use regular soy, gluten- free, or tamari. There are lots of options.
There are lots of ingredient combinations and alternatives, so feel free to be creative. If you want, you could also add bamboo shoots, ginger, cabbage, etc.
PONZU DIPPING SAUCE
This lemon ponzu recipe is about 50% soy sauce and 50% white balsamic or champagne vinegar.
I suggest putting a bit more vinegar than soy sauce.
Add some Meyer lemon ... squeeze less than half a lemon into the mix. Add a bit of honey to give it a sweet and sour taste. You can even use Sicilian lemon white balsamic vinegar here!