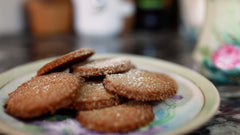 This almond cookie has a nice nutty taste and texture with the exotic flavors of cardamom and rose.  A perfect treat with a cup of tea.
Makes approximately 40 cookies

Ingredients
1 cup almond flour
¾ cup all-purpose flour
½ cup light brown sugar, packed
½ teaspoon salt
½ teaspoon ground cardamom
½ cup extra virgin olive oil, medium intensity
1 tablespoon rosewater*
1 teaspoon vanilla extract
powdered sugar, for sprinkling
 
Directions
Pre-heat oven to 375°F.  Line a baking sheet with parchment paper or use a silicone baking mat.
In a medium size bowl, whisk together dry ingredients.  In a small bowl, whisk together wet ingredients.  Pour wet ingredients into dry and mix until incorporated. Form a disk with the dough and chill wrapped in plastic wrap for 20 minutes.  Dust a surface lightly with flour and roll out dough into 1/8" thickness.  Cut with small round cookie cutter and place onto the prepared baking sheet with an offset spatula, spacing cookies 1 inch apart.  Bake for 10-12 minutes or until edges are golden brown.  Allow cookies to cool on baking sheet for 5 minutes and then transfer to a cooling rack to cool completely.  Dust with powdered sugar. Enjoy! 
*Note: Rosewater can be found in most Indian or Middle Eastern markets.  If you are unable to find it, you can substitute with 2 teaspoons of almond extract.
Recipe adapted from:
Cooking Techniques and Recipes with Olive Oil by Mary Platis and Laura Bashar