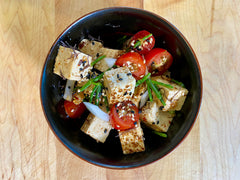 Island Olive Oil's Honey Ginger Tofu Poke is our super light and healthy flavorful vegan style poke! The perfect plant based "pau hana pupu".  Our tofu poke would also be great to add to a plant based power bowl rounded out with some brown rice, edamame, roasted beets, avocado, or sweet rice wine pickled cucumbers...yum!
Watch the step by step video here!
Ingredients:
9 oz                  -Yaki Tofu (broiled firm tofu) or organic extra firm tofu, cut into ½ inch cubes
 ¼ t                   -Red Alae Hawaiian salt
1T                    -dried ogo seaweed (re-hydrated)
1                      -Green onion, diced
1 ½ T                -Low sodium soy sauce
1T                    -Honey ginger white balsamic
1                      -small clove garlic, minced
1/2t                  -ginger, grated
¼ t                    -Crushed red chili flakes
½ c                   -Cherry tomatoes, halved
1-2 T                 -sweet onion (Maui onion), diced
1/3 c                -Sea asparagus, chopped
1T                    -Black and white sesame seeds
-Furukake for garnish
Directions:
Drain tofu and get water out by pressing with paper towels and plates (30min-1hr) then dice into ½ inch cubes and set aside.  Next, rehydrate the dried ogo in water for 2-3 minutes, then drain and chop.  Combine first four ingredients in a medium mixing bowl and set aside.  In a small bowl whisk together soy sauce, sesame oil, honey ginger balsamic, garlic, ginger, and chili flakes and pour over tofu mixture and toss gently until just mixed to begin to gently marinate the tofu.  Add remaining ingredients to tofu and lightly toss.  Plate and garnish with a drizzle of sesame oil.  Serve with brown rice and a pinch of furukake and shelled edamame for a vegan protein bowl or enjoy on its own!
Note: If you can't find sea asparagus in your area, you can substitute by adding chopped fresh cilantro and shelled edamame or sliced Persian cucumber.  In Honolulu you can find it at Don Quixote in the produce department.