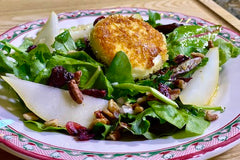 This salad is the perfect vegetarian meal with soft and creamy goat cheese pan fried with a light and crunchy crust over a bed of baby greens.  Finished with a sweet and savory vinaigrette it is perfect as a lunch entrée salad or served along-side oven roast chicken.  The juicy sweetness of the pears, tart and chewy cranberries, and crunchy chopped pecans bring together this satisfying dish.  This salad can be modified to create endless variations depending on the season with different toppings and oil and vinegar combinations.
Makes 2 entrée portions, or 4 side salads
 
Ingredients
4 ounces chevre fresh goat cheese, chilled
2-3 tablespoons All-purpose flour
1 tablespoon Italian Herb spice blend
1 egg lightly beaten
3-4 tablespoons panko
5 ounces mixed baby greens
1 pear sliced
1/4 cup (60ml) Tuscan Herb Infused Olive Oil
1/4 cup (60ml) Cranberry Pear White Balsamic Vinegar
3-4 tablespoons dried cranberries
3-4 tablespoons chopped pecans
1 teaspoon minced shallot
1 teaspoon Dijon mustard
 
Directions
Cut the chèvre into four slices and work quickly to form into 4 small disks about 2½ inches in diameter and ½ inch thick.  Wrap in plastic or set on a plate and put in freezer to firm up. 
While the goat cheese is chilling, get 3 small shallow dishes to prepare the ingredients for dredging.  In the first bowl, mix 1 tablespoon Italian Herb seasoning with flour.  In the next bowl, crack and egg and lightly beat adding a pinch of salt and pepper to taste, and in the third bowl add the panko. 
For the dressing, add mustard and shallot to a mixing bowl and mix with the Cranberry Pear White Balsamic Vinegar.  Whisk in the Tuscan Herb olive oil until it is emulsified and season to taste with salt and pepper.
Heat 1 tablespoon of either Tuscan herb olive oil or mild intensity extra virgin olive oil in a medium skillet over medium heat. Remove goat cheese from the freezer where it should be firm and hold together well, but not frozen.  Dip each disk progressively into the season flour mixture and coat shaking off any excess, next into the egg, and finally into the panko and repeat until all four are finished.  When the oil is hot and shimmering place them in the skillet and gently fry until golden brown, 2-3 minutes per side.  Remove and rest on a plate with paper towel to absorb any excess oil. 
Now it's time to compose the salad! Plate equal portions of mixed baby greens and layer on the sliced pears, goat cheese croquettes, dried cranberries, chopped pecans.  Drizzle with the Cranberry Pear & Tuscan Herb vinaigrette. Enjoy!
*Note: the warmer the goat cheese is, the harder it is to work with and form because it can start melting in your hands.  Working quickly with it chilled makes it easy to handle and stay together during the dredging and pan-frying stages of the process.