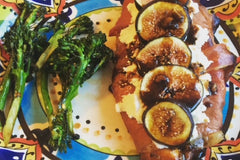 This simple marinade is easy to make and provides of punch of flavor to liven up your favorite dish. The sweetness of the balsamic, paired with the savory taste of garlic, makes for a mouthwatering marinade to try on your next meal.
Ingredients
1/3 cup Traditional Dark Balsamic
Good dash Italian seasoning
Salt to taste
1-2 minced cloves of garlic
 
Directions:
Mix all ingredients together in a zip lock bag. Add protein. Allow protein to marinade for at least 20 minutes.  
Grill or bake protein and serve with favorite veggies
This recipe was created by our Kailua store manager, Jennifer. She explains how she uses this marinade in her favorite chicken dish.
"After I marinate my chicken, I like to wrap it in prosciutto and grilled it to perfection. I then like to add a generous spread of goat cheese and then top that with grilled seasonal fruits. My favorite are figs! I then finish the dish with a nice drizzle of traditional balsamic vinegar. The sweetness pairs perfectly with the tangy goat cheese and the acidity pairs nicely with the sweet figs."
*This recipe should be used as a suggested guide. Adjust according to your preferred taste!