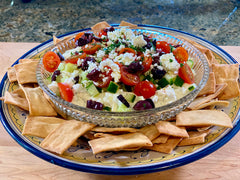 Click here to watch the step-by-step video recipe!
This creamy dip is so easy to whip up and is a great crowd pleaser perfect for any potluck or party.  Serve with pita chips and veggies for a not so guilty treat.  Use it on a baked potato or as a sandwich spread or bagel schmear!
Makes approximately 3½ - 4 cups
 
Ingredients
1 8 ounce block of cream cheese, softened at room temperature
1 8 ounce block of feta cheese, crumbled 7 ounces for the dip + 1 ounce for garnish
1 cup whole milk Greek yogurt
1 lemon, zest and juice
¼ cup Milanese Gremolata Olive Oil + more to drizzle
¼ teaspoon red pepper flakes
½ teaspoon garlic powder
2 tablespoons fresh dill, chopped+ more for garnish
1 tablespoon fresh mint, chopped+ more for garnish
1 teaspoon Mediterranean Citrus spice blend
Salt and pepper to taste
½ cup chopped cucumber
½ cup halved cherry tomatoes
¼ cup sliced kalamata olives
Pita chips for serving
 
Directions
In a stand mixer add the cream cheese, 7 ounces of feta, Greek yogurt, zest and juice of half a lemon and olive oil and whip until well mixed and fluffy.  Add in red pepper flakes, garlic powder, dried herbs, and the dill and mint and blend until flavors are mixed.  Season to taste with salt and pepper.  Transfer to a serving bowl and garnish with the cucumber, tomato, olives, chopped fresh herbs, remaining feta and a nice drizzle of fresh olive oil.  Serve with pita chips and crudité.
*If you don't have it you can substitute ½ teaspoon of dried oregano and ½ teaspoon dried basil for the Mediterranean Citrus spice blend.