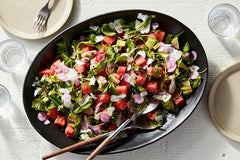 This delicious watermelon salad is the perfect balance between sweet and savory with a hint of bitterness. The contrasting flavors of the radishes, arugula and diced avocado creates a refreshing and fun to eat salad. 
Serves 4-6
Ingredients
3-1/2 cups of 3/4-inch cubed watermelon, chilled 
1 cup very thinly sliced radishes (4 to 5 radishes)
1 large shallot, thinly sliced
4 tablespoons extra virgin olive oil (we recommend our Ogliarola or Hojiblanca or Basil Olive Oil)
1 tablespoon champagne vinegar
1 tablespoon of Watermelon white balsamic vinegar
½ teaspoon kosher salt, plus more to taste
¼ teaspoon black pepper, plus more to taste
4 cups baby arugula 
2 avocados, halved, pitted and diced
⅓ cup torn fresh mint or basil leaves
Shaved ricotta salata (optional)
Directions 
Place the watermelon, radishes and shallots in a large serving bowl. In a separate bowl, whisk together the olive oil, vinegar, salt and black pepper.
Just before serving, pour half of the dressing over the watermelon, radishes and shallots, and toss well. Add the arugula, the avocado and the rest of the dressing, and toss gently. Top with the fresh mint or basil and ricotta salata, if using. Season with more salt and pepper to taste. Serve immediately.
To keep it vegan, omit the ricotta salata. 
"*While you can make the dressing and prepare the watermelon, shallots and radishes in advance, wait to assemble and dress the salad until just before serving. Watermelon, as the name suggests, has a high water content and will start to release its juices the second the dressing is added."
Inspired by Lidey Heuck