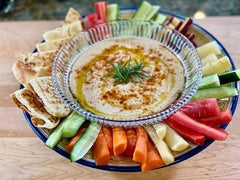 Simple and healthy with the earthy, floral flavor of rosemary oil- make this dip one of our go to snacks and a fun alternative to a classic hummus.  Enjoy with warm pita and cucumber spears or use as a base to plate with rack of lamb or grilled salmon served with broccolini. 
Click here to watch the step-by-step video recipe!
Makes 2 cups
 
Ingredients
1 15 ounce can of Cannellini beans, drained and rinsed (¼ cup reserved)
1 clove minced garlic
¼ cup Rosemary Olive Oil
1 Tablespoon water
2 Tablespoons lemon juice
1 teaspoon Rosemary & Roasted Garlic Spice Blend 
Pinch of Cayenne pepper, plus more for dusting
Salt & Pepper to taste
Fresh EVOO to drizzle
Cucumber spears & carrot sticks
Crostini, toasted Naan bread, or pita chips for serving
 
Directions
In a mini-Cuisinart mixer add the cannellini beans, garlic, rosemary oil, water, lemon juice, cayenne, and spice blend. Pulse until smooth about 10 seconds. Scrape down the sides and check for seasoning. Season with salt and pepper to taste. Incorporate the remaining ¼ cup beans and pulse to just combine making sure to keep the texture.  Transfer to a serving bowl and garnish with a sprinkle of cayenne and a nice drizzle of fresh olive oil.  Serve with pita and crudité.