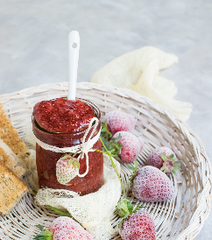 This stuff is so delicious! Not only is it super easy to make, its healthier than store bought jam. It's packed with chia seeds which means fiber and heart healthy omega-3s. Use this as a spread of toast, or add to yogurt or cottage cheese. Perfect for breakfast pancakes, or as a dessert topping. You might never buy regular jam again!
Ingredients:
2 tablespoons of chia seeds
1 cup of strawberries, sliced
1 tablespoon of lavender balsamic  (pomegranate balsamic works well too)
½ tablespoon of honey
 1 cup of water (for chia seeds)
Directions
Pour chia seeds in a bowl with a cup of warm water, stir, and put aside. Cut tops off strawberries and cut into slices. Put stove on medium heat, add strawberries. Allow strawberries to cook for 2-3 minutes, stirring occasionally. Add honey and balsamic. Use masher or fork to smash up strawberries. Cook for an additional 5 minutes. Pour in the chia seeds, and stir. Remove pan from heat and allow to cool. Enjoy!