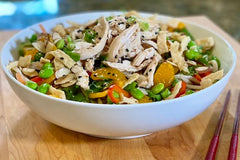 Our version of this beloved salad is the perfect entrée to satisfy your crunchy cravings.  Full of protein and freshness this is an easy and satisfying dish for a light and healthy family dinner or lunch with friends.  By simply using our honey ginger vinegar and sesame oil we create a healthy salad dressing without any added sugar or refined oil.
Makes 2 entrée portions, or 4 side salads
 
Ingredients:
2 cups Napa cabbage, chopped
1 small carrot, shredded or made into thin ribbons
1 Persian cucumber, sliced
½ cup mung bean sprouts
½ cup sliced red bell pepper
¼ cup cilantro leaves
1 ½ cups shredded cooked chicken breast*
3 Tablespoons Toasted Sesame Oil
1/4 cup (60ml) Honey Ginger White Balsamic
1 green onion, chopped
½ cup canned mandarin oranges
¼ cup shelled edamame
2 Tablespoons slivered almonds
3 Tablespoons crispy fried wonton strips
Sesame seeds (garnish to taste)
 
Directions
Layer first six ingredients on a single platter or individual serving dishes and then top with a hearty pile of shredded chicken. 
For the dressing, simply whisk together the toasted sesame oil and honey ginger white balsamic until it is emulsified and season to taste with salt and pepper.
Pour salad dressing over top and garnish with the remaining six ingredients.
Enjoy!
*Note: We love using rotisserie chicken for this dish because it is so easy and convenient and full of flavor.