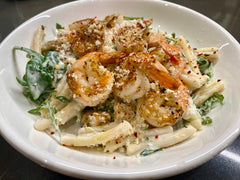 Serves 4 
Ingredients:
1

pound short, ribbed pasta, like penne or casarecce

1

cup whole-milk ricotta (8 ounces)

1

cup freshly grated Parmesan or pecorino (2 ounces), plus more for serving

1

tablespoon freshly grated lemon zest plus ¼ cup lemon juice (from 1 to 2 lemons)

1/4 cup chopped Italian flat leaf parsley

Black pepper

Red-pepper flakes, for serving

1 cup baby spinach or baby arugula, optional

1pound 26-30 tail on shelled and deveined shrimp

1-2 teaspoons Mediterranean Citrus Dipping Blend 
1-2 Tablespoons Garlic Olive Oil
lemon flavored olive oil for finishing
Instructions:
Marinate the shrimp in a mixture of Garlic Olive Oil and Mediterranean Citrus Dipping Blend.  Set aside.
 Bring a large pot of salted water to a boil. Add the pasta and cook according to package instructions until al dente.  Drop the spinach or arugula in with the pasta for the last 30 seconds to blanch. Reserve 1 cup pasta cooking water, then drain the pasta.
While mixing the sauce, Heat a cast iron skillet to medium high, add shrimp and cook for 3 minutes on either side or until just cooked with nice golden crust on both sides. Reserve for finishing pasta.
In the same pot as the pasta was boiled, make the sauce: Add the ricotta, Parmesan, lemon zest and juice, parsley, ½ teaspoon salt and ½ teaspoon pepper and stir until well combined.
Add ½ cup pasta water to the sauce and stir until smooth. Add the pasta and continue to stir until the noodles are well coated. Add more pasta water as needed for a smooth sauce.
Divide the pasta among bowls and top with the cooked shrimp. Garnish with grated Parmesan, black pepper, red-pepper flakes and lemon flavored olive oil.
* Recipe loosely adapted from New York Times Cooking - One Pot Pasta With Ricotta and Lemon by Ali Slagle