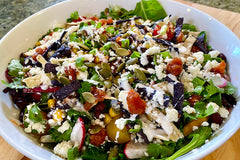 Click here for our step-by-step video! 
This hearty southwestern inspired vegetarian entrée salad has a sweet citrus dressing made with our Persian lime olive oil and cilantro & garlic white balsamic vinegar.  For a savory twist, substitute a tablespoon or so of our garlic olive oil for the lime oil in the dressing. Try adding your favorite protein like grilled shrimp or flank steak for a flexitarian dish!
Makes 2 entrée portions, or 4 side salads
 
Ingredients:
2 cups mixed baby greens
1 radish, sliced
½ cup sliced red bell pepper
½ medium avocado, cubed
½ cup cherry tomatoes, halved
¼ cup cilantro leaves
½ 15 ounce can black beans (rinsed and drained)
½ cup frozen corn kernels*
3 Tablespoons Persian Lime Olive Oil*
2 Tablespoons Cilantro & Garlic White Balsamic Vinegar
½ Lime
Garnishes:
Salsa
Mexican Crema
Cotija cheese (shredded Mexican cheese blend)
Pepitas
Crunchy tortilla strips
Tajin

 
Directions
Layer first eight ingredients on a single platter or individual serving dishes. 
For the dressing, simply whisk together the lime olive oil, cilantro & garlic white balsamic, and lime juice to taste until it is emulsified, then season to taste with salt and pepper.
Pour salad dressing over top and garnish with the remaining six ingredients.
Enjoy!
*Note: If you can find fire roasted corn kernels in your freezer section it adds a nice touch!